Our Branch Lobbies are Now Open!
Effective June 1st, all branch lobbies are open to members.
In order to safely provide lobby service, we have implemented common sense guidelines and precautions for the protection of members and employees.
We encourage you to continue using distance services when possible.
We are adapting to safely and quickly serve you.
Spirit of Alaska Federal Credit Union has the products, service and people to keep you moving forward in your financial life and business, and stay safe as we adapt to the impacts of the coronavirus pandemic on our community.
Pull up the information you need through the links and buttons below, or keep reading for additional helpful updates.
IRS Economic Relief Payment Information
Credit Union Services
Loan Assistance
---
Proactive Action in our Branches
In response to growing concern on the possible impact of COVID-19 coronavirus in Alaska, our branches are taking proactive, preventative measures as recommended by the Center for Disease Control (CDC) and other official agencies.
Employees are wearing masks at all times.
Drive-up service has been expanded and is available at our Geist and Johansen locations.
Providing hand sanitizer and tissues in all branches to employees (as supplies are available in our market).
We continue to communicate with our employees on a daily basis to use appropriate safety measures in line with CDC recommendations.
Employees may be limiting physical contact with members when not necessary.
The CDC has published guidance for workplace, homes and schools to help protect our community.
Download the CDC Guidance PDF
---
Local hotline
A local hotline for the Fairbanks area has been established if you have questions or concerns.
Call 907-458-2888.
Email Updates from ADHSS
Update 3.17.2020 – The Alaska Department of Health and Social Services (ADHSS) is providing updates to the public by text or email.
Sign up to stay informed
NCUA Safety of Deposits Announcement
Update 3.18.2020 – The National Credit Union Administration is reminding credit union members that their deposits are safe up to $250,000 in federally insured credit unions. Spirit of Alaska FCU is federally insured by the NCUA.
Read the NCUA Announcement
Update to the New e-Teller Timeline
Updated 9.17.2020 – Spirit of Alaska is implementing the New e-Teller on October 19th, 2020.
---
CARES Act Economic Relief Payment
Updated on 4/15/2020
Relief Payment Calculator from Banzai
Direct Deposit Your Economic Relief Payment
We recommend using Direct Deposit to quickly and securely receive your Economic Relief Payment, or stimulus check, from the IRS. Much like the Permanent Fund Dividend, you will not receive a mailed relief payment as quickly as a directly deposited payment, possibly by many weeks. See the IRS resources section for information on how to update your direct deposit information.
Apply online to open a checking account with Spirit of Alaska and take advantage of Direct Deposit with an instantly issued debit card.
From our Blog: Be Smart With Your Stimulus Check
IRS Resources
For the most up-to-date information, please visit the IRS website.
If you have filed your 2018 or 2019 taxes, or have not filed your taxes, the IRS will be allowing you to submit  information though their website. Non-tax filers can apply for their stimulus check and filers can update their direct deposit information and track their payments. Click the buttons below to access the IRS web portals.
Update Direct Deposit Information & Track Payment
Did not file taxes? Enter Payment Info Here
For Spirit of Alaska Direct Deposit
When you sign up, be sure to use the Spirit of Alaska routing number (325272212) and your complete account number.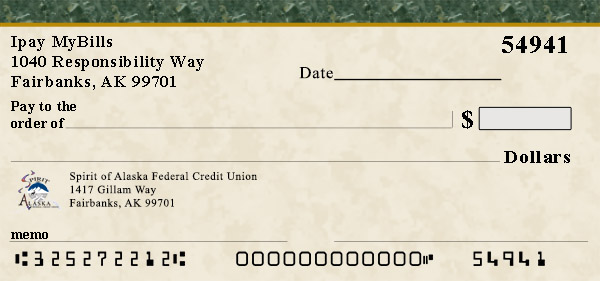 Be watchful for scams
The IRS will never call you, text you, email you or contact you on a social media account. According to the IRS website:
"The IRS urges taxpayers to be on the lookout for scam artists trying to use the economic impact payments as cover for schemes to steal personal information and money. Remember, the IRS will not call , text you, email you or contact you on social media asking for personal or bank account information – even related to the economic impact payments. Also, watch out for emails with attachments or links claiming to have special information about economic impact payments or refunds."
Additional Information Available on the IRS Economic Impact Payment Information Center
U.S. Treasury Check Security Features (opens a PDF)
---
Economic Relief Payments FAQ