Limited Gillam Branch Access
Construction season is underway! Gillam Way is closed from Airport to 17th Ave for improvements to the sidewalks, sewer and utilities.
Download DOT Project Scope PDF
Construction is expected to continue through July and August.
Access to Gillam Branch
During construction the branch is OPEN, but access will not be available from Gillam Way.
Access is available through the side entrance off of 14th Ave, also known as a frontage road for Airport Way. To access the frontage road:
Drive south on South Cushman St.
Turn right at Prospector Outfitters on 15th Ave.
Turn right again at the stop sign onto Stacia St.
Follow Stacia St. back up towards Airport, which merges into the frontage road of 14th ave.
Access to our Gillam Branch is at the end of 14th Ave. Please follow any posted signs or traffic lanes.
See the below map for information on accessing the 14th Ave. entrance. We recommend using 15th Ave. and Stacia St, and ask that members avoid cutting through local business parking lots, as well as be aware of local foot traffic in the area.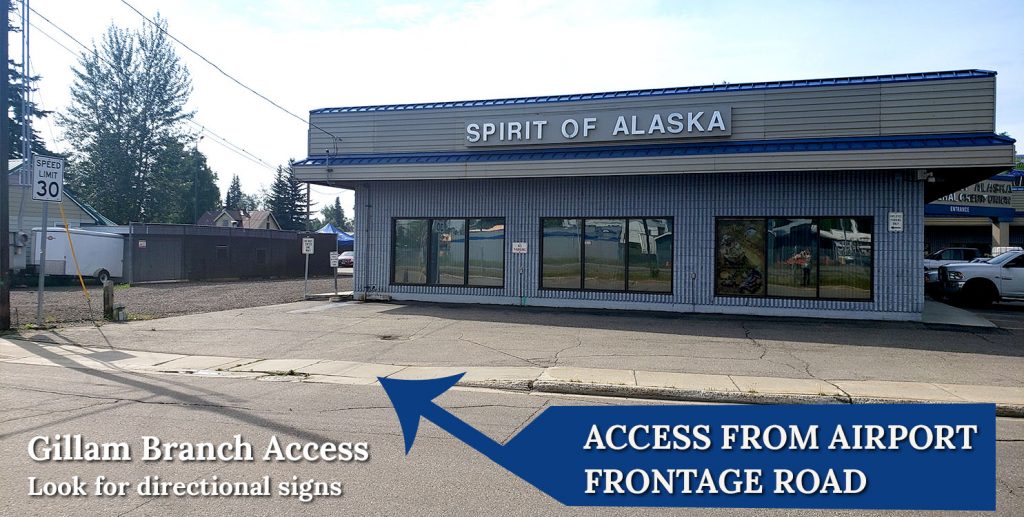 Other Branches Available
All services are available at our other branches, located off of the Johansen Expressway and also Geist Road.
---