Spirit of Alaska announces major updates to our online banking system and mobile app.
The New e-Teller Arrives Late 2019/Early 2020
Been looking for an update?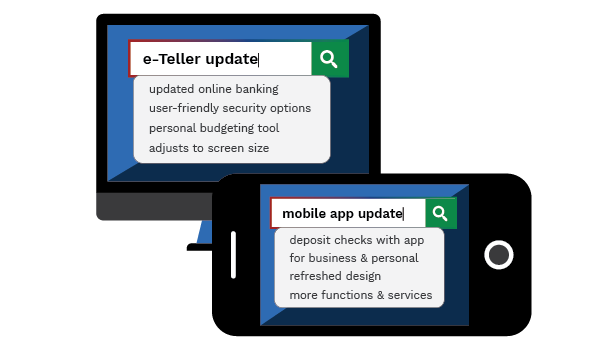 The search is over
Members have been looking for updated online banking functions and options, and the search is over! Here are details on what you can expect to see in November:
e-Teller
Our online banking application will be completely refreshed, with several exciting new options and functionality to make accessing your accounts online easier.
Current Features
All Bill Pay accounts will be automatically transferred over.
Access to your statements and documents through Home Connect will remain the same.
Members who use e-Teller will be notified in a timely manner of any changes to currently available features.
Improved Display
e-Teller will now adjust to the size of your web browser screen, whether a desktop, tablet or phone. This means on a smaller device, you will have less need to manually zoom in to see your account balances.
Accounts can be displayed as tiles or as a list.
Stay tuned for video tours, photos and more information on the "look and feel" of the new e-Teller.
Updated Security
With the update, e-Teller users can avoid a lock-out of their account with user-friendly security features.
Current users of e-Teller will be asked to update their password when the new e-Teller arrives.
Personal Financial Management (Budgeting Tool)
Manage your finances in one place, e-Teller!
Pull information from other credit cards and bank accounts into the new e-Teller's personal financial management tool.
Assign your transactions to categories and sub-categories. Easily track your spending, build a budget and create helpful reports.
More information to come on this exciting new tool.
Mobile App
Simply update your app in November to access these new features. Haven't downloaded our app yet? Get started on the Apple Store or Google Play Store by searching for "Spirit of Alaska".
Deposit Checks
You will be able to deposit checks straight from the Spirit of Alaska mobile app!
Please be aware checks deposited through the app may be subject to a hold.
Business Account Access
Business accounts will now be available on our app.
Features Available in Late 2019/Early 2020. Stay Tuned!
---