Wondering why you should choose Spirit of Alaska Federal Credit Union as your financial partner?
In addition to our local focus and friendly tellers, we offer several membership perks that can help you connect with our community and navigate your life throughout different seasons. Whether you're concerned about protecting your financial data, helping your kids learn about money management, or like getting discounts, Spirit of Alaska is has a perk for you.
---
Prestige

Join our Prestige program for members 55 years and older, and participate in informative events, discount opportunities and social activities with your peers.
---
Centsables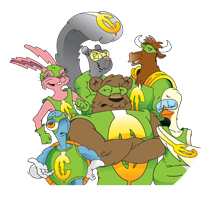 The Centsables are credit union employees by day and superheroes by choice. When the kids of Centsinnati are threatened by villains like Creditor and Liquidator, the Centsables leap into action, fighting evil-doers with abilities that include super-speed and the power over water and wind.
Learn more about the Centsables
---
Member Discount With LifeLock

While we enjoy greater convenience with advances in technology, your finances, credit, and identity need full protection to defend against fraudsters and thieves. Become a LifeLock member with this special offer from Spirit of Alaska. Enjoy 30 days free and 10% off using the offer code SPIRIT2015.
---
Special Dell Discounts
When you're a member of Spirit of Alaska, you'll enjoy unique benefits. One of the most outstanding benefits is a discount on a variety of Dell computer products. Since we've partnered with Dell, we've been able to supply our members with items like accessories, tablets, and computers at low prices. By using the Member ID code US135895006, you can enjoy many Dell products without paying full price.
To learn more about the membership benefits of working with Spirit of Alaska Federal Credit Union, contact our call center today!