Wondering why you should choose Spirit of Alaska Federal Credit Union as your financial partner?
In addition to our local focus and friendly tellers, we offer several membership perks that can help you connect with our community and navigate your life throughout different seasons. Whether you're concerned about protecting your financial data, helping your kids learn about money management, or like getting discounts, Spirit of Alaska is has a perk for you.
---
Prestige

Join our Prestige program for members 55 years and older, and participate in informative events, discount opportunities and social activities with your peers.
---
Centsables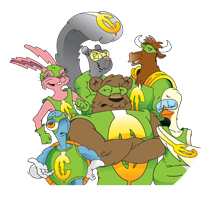 The Centsables are credit union employees by day and superheroes by choice. When the kids of Centsinnati are threatened by villains like Creditor and Liquidator, the Centsables leap into action, fighting evil-doers with abilities that include super-speed and the power over water and wind.
Learn more about the Centsables
---
Member Discount With LifeLock

You can miss certain identity threats by just monitoring your credit or bank statements. Identity thieves can sell your personal info on the dark web or change your address without authorization.
LifeLock sees more. Their proprietary technology detects a wide range of identity threats and if there's a problem, a dedicated, specialist will personally handle your case from start to finish and help fix it.
Become a LifeLock member with this special offer from Spirit of Alaska. Enjoy 10% off your first year of membership using the offer code SPIRIT2015 at lifelock.com.
---
To learn more about the membership benefits of working with Spirit of Alaska Federal Credit Union, contact our call center today!