If you'd like to purchase an item here, you'll have to take part in the bidding process. Keep in mind that the prices of all items and their availability can change without notice if you submit a bid by the end of the business day on Thursday, we'll review it on Friday. For regarding any of the items listed here, or to make an appointment to view something, please contact our collections department at (907) 459-5900.
Disclaimer: All items are "AS IS, WHERE IS" and without warranties or guarantees expressed or implied and that the risk as to the quality and performance of said item transfers and remains with the buyer and not with Spirit of Alaska Federal Credit Union. Spirit of Alaska Federal Credit Union reserves the right to refuse any and all bids and offers. All bids are in U.S. currency and paid for in cash.
Real Estate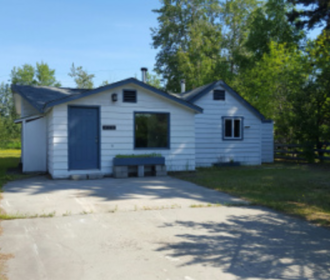 Cozy home in Hamilton Acres
420 Eureka Avenue | Asking $155,000
Cozy home in Hamilton Acres. Recently updated, 2 bedrooms, 2 baths and Oil Forced Air heating.
Freshly painted with new floor coverings. Basement storage. Large fenced yard with back alley access. Convenient to Ft. Wainwright, Schools and shopping. 420 Eureka Avenue. Contact the Mortgage Department at 459-5974.
Vehicle
2009 Chevy Silverado 1500 Z71
$15,500 obo
We have the following 2009 Chevy Silverado Z71 1500 for sale at our Gillam location. It's available for viewing between the hours of 10:00 am and 5:00 pm only. Truck runs good, has 128,208 miles and only minor body damage on the side of the bed. See photos and NADA information below. $15,500 o.b.o. For questions, to view, or to place a bid/make an offer, contact Nicolle at 907-459-5901.