Improving Our Impact
At Spirit of Alaska, our policy is to improve environmental quality through wise business decisions. Our efforts include generating our energy through solar panels and conserving energy through meeting Green Star standards. We also are Going Green by reducing or eliminating waste and reducing paper use.
We believe that our responsibility to reduce our footprint is compatible with successful business objectives. Improving our productivity and efficiency requires regular review of operations, but we believe it can be done…and are doing it every day!
Green Solar Panels
Have you noticed the solar panel arrays at our Gillam and Johansen branches? These solar panels are the core of our Go Green program.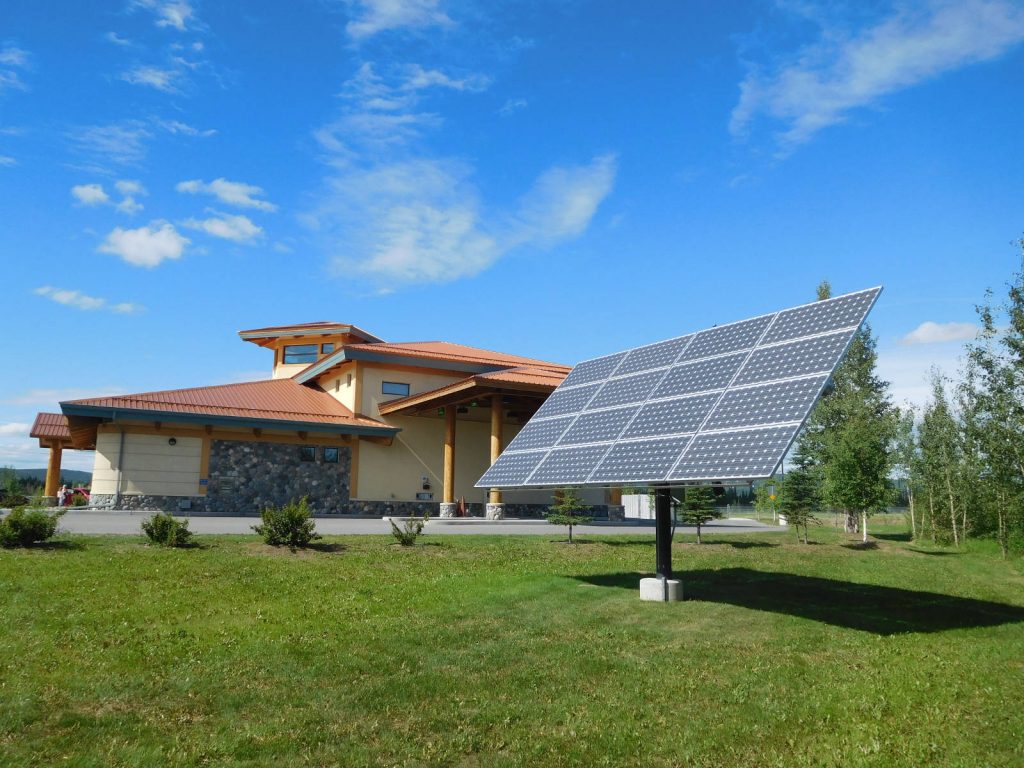 Awarded for Renewable Green Energy
In 2009, our Gillam Panels caught the eye of the Northern Alaska Environmental Center. For implementing renewable solar energy in the Interior, they awarded Spirit of Alaska the 2009 Business of the Year Award.
Sunny Portal – real-time solar panel statistics
See in real-time the energy generated by the solar panels, represented by some great visual graphs. Photos are also view-able through the portal.
Here are a few additional specs on these investments in the future:
Gillam Panels: 3,500-watt stationary system.
Johansen Panels: 2800-watt system that tracks with the sun.
Our solar panels, at peak performance, generate 11.5 kWp. Both panels include equipment for connection to GVEA's SNAP program. All of the power we generate cycles back into SNAP. SNAP links local people and businesses who want to produce renewable energy, such as solar and wind power, with local members who want to buy renewable power.
Green Star Johansen Branch Construction
Our new flagship branch was built in 2011 using Green Star standards. Winterizing includes 4 pane windows and heavily insulated walls and roof. We installed a dual-feed (will accept fuel or natural gas) low-temperature furnace and radiant heat floors.
Taking advantage of Alaska's long summer days, natural light and heat are sourced through large windows and an overhead cupola. Locally-sourced materials such as Alaskan lumber and river stone decorate the building's exterior.
As a result, our Johansen Branch generates energy through solar panels that track the sun and conserves the energy it does use through solid and thoughtful construction.
Going Paperless
Spirit of Alaska went paperless by converting to an electronic record retention system, with cutting edge security and backup. Amazingly, we removed a vast majority of our filing cabinets, over 60 of them! Our basement is looking much cleaner these days. Due to the conversion, all of our documentation is now scanned and stored on secure servers, and we can make them available to our members through Home Connect.
Our employees are happy to exchange electronic documents with our members once they have verified their identity. So email away!
Online Banking and Services
You probably already know that online banking, online bill payment, and e-statements can help save time. But the benefits go beyond personal convenience because these terrific services can help the environment as well.
If everyone started using these services on a regular basis, the results would be remarkable, such as:
Sparing more than 16 million trees.
Dropping fuel use by 26 million BTUs. That's enough to provide residential power to San Francisco for a year!
Reducing air pollution by 3.9 billion pounds of CO2 equivalents—comparable to taking 355,015 cars off the road!
Reducing about 1.6 billion pounds of solid waste—equal to 56,000 fully loaded garbage trucks.
Start banking online today!
e-Teller makes it easy to do your part for the environment while enjoying the 24-hour convenience. Learn more about online banking.
Other ongoing green initiatives
As a result of older lighting going out, we are slowly upgrading to more efficient LED light bulbs throughout our branches. Employees regularly recycle aluminum cans and use their mugs and bottles to reduce paper cup waste.
---