Jump to Section:
Projected Timeline
Fall of 2020
Updated 3.18.2020
Spirit of Alaska is looking forward to providing an updated online banking experience, and our goal is to provide a smooth transition for our membership. In pursuit of this goal, and in light of recent events surrounding the COVID-19 pandemic, implementation of the new e-Teller will be moved to the fall of 2020.
---
Must Read Information On Upcoming Updates
Spirit of Alaska is committed to creating a smooth transition for members to the new e-Teller and our new Mobile App. Here's what you need to know about the upcoming update:
#1: Your username will not change
Good news! You will keep the same e-Teller username for your login ID.
#2: A password change will be required
Look for your temporary password included with your electronic or paper statement. We encourage you to check your statements monthly. Find more details in the password update & enrollment process section.
#3: Updating your 5 security questions
You will be prompted to follow a simple process for updating your 5 security questions upon your first login to either e-Teller or the mobile app.
#4: Customized account names
Many members "nickname" their accounts, which is a helpful feature available in e-Teller and the New e-Teller. However, these custom account names will not carry over into the new e-Teller. Find out More


---
New e-Teller Features
Our online banking application will be completely refreshed, with several exciting new options and functionality to make accessing your accounts online easier.
New Security Options
Avoid being locked-out of your online banking account. New password authentication features put you in control.
Financial Management Tools
Create a flexible budget in e-Teller with new financial management tools. Assign your transactions to categories and sub-categories to track spending and export helpful reports. Pull information from other credit cards and bank accounts to keep track of your finances in one place, e-Teller!
New Display
With a refreshed design, e-Teller will be easier to use on different devices, and offer the choice to display accounts as tiles or a list.

Responsive Design
Using responsive design (see definition), e-Teller will now adjust to the size of your web browser screen, whether a desktop, tablet or phone. This means on a smaller device, manually "zooming in" to to see your account balances will be much less frequent.
Tiles or Lists
Accounts can be displayed as tiles, or as a list.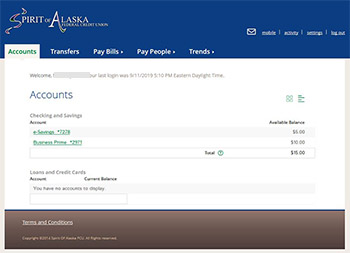 New Mobile App Features
Members can download our Mobile App for Android and Apple mobile phones. These upcoming additions have often been requested by members!
Remote Deposit Capture (RDC)
You will be able to deposit checks straight from the Spirit of Alaska Mobile App! We will be providing tutorials and walk-through videos. These resources will help members learn how to deposit checks from their mobile device.
Notice: the Remote Deposit Capture feature will be released approx. one week after the new mobile app is available. Checks deposited through the app may be subject to a hold.
Business Access
Business Entity accounts will be available in the new Mobile App. Manage your business, trust, non-profit or estate accounts from your mobile phone.
New Design
The app has been redesigned to feature local imagery.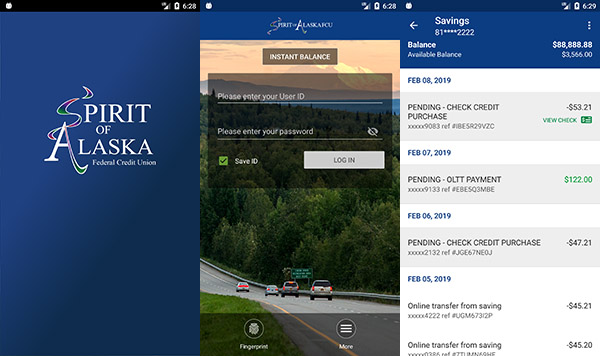 More details on these new features will be added soon.
Frequently Asked Questions
+ Helpful Terms & Definitions
Will my password change?

Yes, a temporary password will be provided to online banking users prior to the Go Live date. Further information will be released in your monthly statements.

Will the mobile app offer Remote Deposit Capture?

Yes, Remote Deposit Capture (RDC) will be offered on our mobile app. Members who are using the current SPRIG by CO-OP app to deposit checks will transition to the Spirit of Alaska mobile app at that time.

Notice: the Remote Deposit Capture feature will be released approx. one week after the new mobile app is available.

When will new features be available?

"Go Live" with the new features is scheduled for Late 2019/Early 2020. All new developments will be reported on our website and other marketing channels. Please check back periodically.
Helpful Terms & Definitions
| Term | Definition |
| --- | --- |
| e-Teller | Online Banking application for Spirit of Alaska FCU. With e-Teller, you have access to your accounts and statements from a desktop computer or tablet. |
| Personal Financial Management | A budgeting tool on the new e-Teller, called Personal Financial Management or PFM. Manage your personal or business finances in one place. |
| Responsive Design | Designing a website so it is easy to use and see on smaller screens, such as a tablet. With responsive design, e-Teller will be easier to use on smaller device screens. |
| Mobile App | The Spirit of Alaska Mobile App is available on the Google Play store, and Apple App store. Our mobile app is only available for mobile phones, not tablets. |
| Remote Deposit Capture (RDC) | Deposit checks with your mobile device through our Mobile App. RDC is not available on tablet devices if logged into e-Teller. |
| "Go Live" | On our "Go Live" date, online and mobile banking will be down for a short period of time in the evening while our teams activate the connection to the new e-Teller. |
Password Update & Enrollment Process
Here's how you will securely access e-Teller and the Mobile App after the upcoming update.
Your username will stay the same, but you will be issued a temporary password.
Temporary Password
In a monthly statement before the update, members will be provided a temporary password. Review the last page of your statement.
Save the disclosed temporary password in a safe place. If you have e-statements, make sure to access this password before the update. Exact dates for the transition will be announced on our website.
---
e-Teller Adjustments
Customized Account Names
The current e-Teller allows for accounts to be given a custom name (Dad's Checking, Vacation Savings, etc), also known as an account "nickname". This feature will still be available in the new e-Teller.
Unfortunately, as part of this transition to the new e-Teller, your account nicknames will not be preserved. We encourage you to make a note of account balances if you rely on the nicknames to identify accounts.
When you first login to the new e-Teller, accounts will be listed with the product name (Savings, Prestige Checking, etc). You can re-set your account nicknames in the Account Information area of the new e-Teller, and we will be providing helpful tutorials for this process down the line.
---
Thank You for your continued membership with Spirit of Alaska Federal Credit Union