Show your personality with a custom card from Spirit of Alaska Federal Credit Union.
Let's face it, we use our credit and debit cards everyday for small and large purchases. The things we use most, we often make our own. Why should our card be any different? Custom cards are printed on site at Spirit of Alaska Federal Credit Union, so there's no waiting for your card in the mail, plus you can make it your own!
We offer your first debit or credit card with a Spirit of Alaska pre-loaded image at no cost. There is a fee to use our custom card service to upload your own picture. Changing your image after your first card may result in a fee. See our Pricing Guide (PDF) under Card Customizing for more information.
Choose one of our pictures…
When you receive a Spirit of Alaska debit or credit card with your new checking or credit card account, you can choose a favorite Alaskana picture for your card from our pre-loaded images. There's no cost to choose one of our hand-selected images like the one below.
Read about our exclusive Yukon Quest images…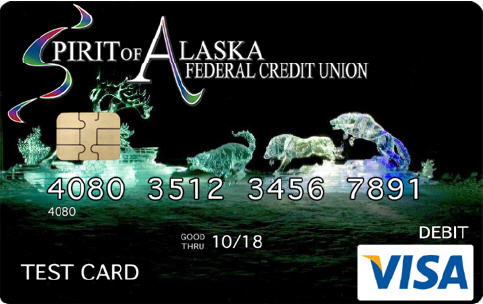 Or upload your own picture!
You can also upload your personal image, and we will custom print your card with that image! You must have permission to use the picture, and the image can't include any trademarked or licensed imagery.
---