Bird Watching in the Field
Date: Wednesday, June 15th
Time: 10:00 am
Location: Creamer's Field, 1300 College Rd.
Meeting Location: Creamer's Farmhouse Parking Area (see map below)
The Prestige Program is excited to take our members on a tour of bird watching and banding at Creamer's Field Refuge! Binoculars will be provided for this event by Prestige Program.
Alaska Songbird Institute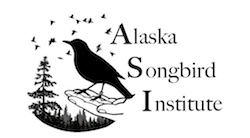 The Alaska Songbird Institute (ASI) is graciously hosting Prestige Members for this tour. ASI will provide an introduction to bird banding and watching. Spotting scopes will also be set up for our group.
Youth Mentoring Program
To illustrate the bird banding process, the youth interns being mentored in the Swallow Ecology Project will be on-site and banding new swallows. Come out and watch the research project come to life!
For this event, please bring clothing for outdoor elements. Be prepared for mosquitos, a meandering walk, and for fun! A bottle of water will be provided along with binoculars.
Please meet the group at 10:00 am in the area indicated by the green dot on the map below, to the east of the Farmhouse Visitor Center.
---