This event has concluded. See our Prestige Program Page for information on upcoming events.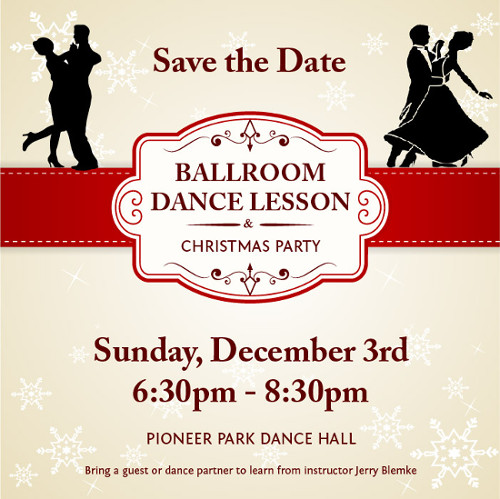 Ballroom Dance Lesson & Christmas Party
All Spirit of Alaska FCU members age 55+ are invited. Bring a guest!
Event Details
Sunday, December 3rd, 2017
6:30pm – 8:30pm
Pioneer Park Dance Hall
Love to dance? Or have always wanted to get started? It is never too late to learn! Jerry Blemke is an experienced instructor of 30+ years. Join Jerry, the 4H Dance Club and Spirit of Alaska employees and Prestige members for finger foods and a festive atmosphere at the Pioneer Park Dance Hall. And don't forget your dancing shoes!
RSVP
Dance Shoes Policy
IMPORTANT: A second pair of clean shoes is required for attending this event. The Pioneer Park Dance Hall has a strict no-street-shoes policy on their dance floor. We will be enforcing this policy in consideration of the facility.
Bring a set of clean-soled shoes with NO DIRT or snow on them. Acceptable shoes include gym shoes, dance shoes, and shoes that do not make black marks on a floor. Those who do not bring a second pair of shoes will be asked to wear blue shoe liners while on the dance floor.
Our Instructor
Jerry Blemke is an experienced instructor of 30+ years. Blemke started dancing in Los Angeles in the 70's, winning his first professional competition in 1980. He also earned teaching certificates in 10 different dances through the Fred Astaire Dance Studios.
After moving up to Fairbanks, Jerry became a principal instructor with the Ballroom Dance Club of Fairbanks for 12 years. Currently, Jerry judges Dancing with the Fairbanks Stars and often judges Tanana Valley Fair competitions as well.
He donates his time teaching ballroom dance on Wednesdays to the 4-H Social Dance Club. Members of the club will be attending to demonstrate steps with Jerry and provide partners for attendees.
Dress Code
The dress code is casual, but festive or dress wear is encouraged.
Other Policies
No alcoholic beverages will be served. Please do not bring alcohol on your person; it is not permitted on the premises.
---