Spirit of Alaska FCU is offering a new perk to our membership, to help you this tax season.
NOTICE: This credit union member discount expired on May 17th, 2021. Look for it again next year!
Get Your Maximum Refund and Special Savings on TurboTax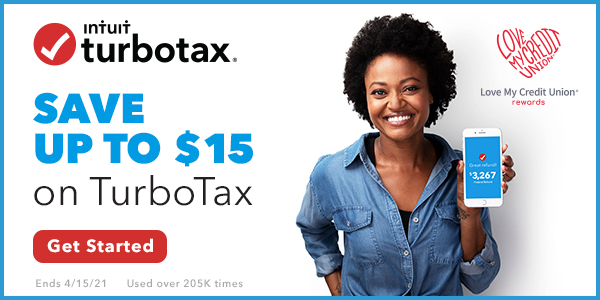 Spirit of Alaska Federal Credit Union is now working with TurboTax to provide special savings for our membership — get up to $15 off TurboTax Federal products. Click the button below to start today.
Be among the first to get your tax refund! Let TurboTax® guide you through your return step by step. Then e-file and choose direct deposit to your account to get your refund as fast as possible.
Taxes made easy. Just answer questions about your year, anytime and from any device, and TurboTax fills in all the right forms for you.
Real experts standing by. With TurboTax Live, get unlimited advice from tax experts as you do your taxes — or have everything done for you, start to finish.
Done right, guaranteed. TurboTax guarantees 100% accurate calculations, so you can be confident your taxes are done right.
Getting your biggest possible tax refund has never been easier. From simple to complex taxes, TurboTax® has you covered.

Visit http://turbotax.intuit.com/lp/yoy/guarantees.jsp for TurboTax product guarantees and other important information. Limited time offer for TurboTax 2020. Discount applies to TurboTax federal products only. Terms, conditions, features, availability, pricing, fees, service and support options subject to change without notice. Intuit, TurboTax and TurboTax Online, among others, are registered trademarks and/or service marks of Intuit Inc. in the United States and other countries.
---